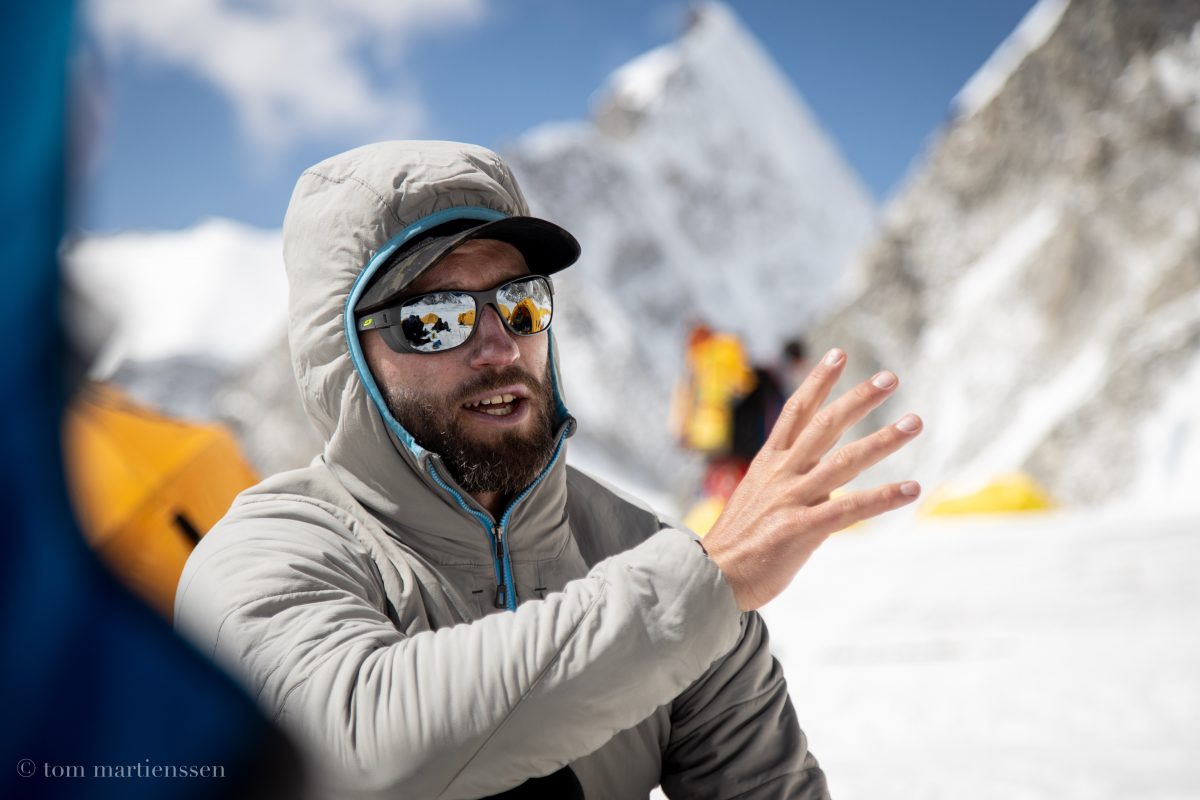 Jay Morton: Everest 2019 Summit #2
Everest 2019 would be a completely different experience to the blissful clear climb that I had back in 2017.
Everest, unfortunately, made the press quite a lot this year with death rates going into double figures and record-breaking queues and traffic jams on the infamous Hilary step.
This was due to a much smaller weather window for summiting then normal. So that you can understand this, there is normally around 2 weeks towards the end of April/ May where the weather backs off slightly to allow us to get to the roof of the world.
However this year that window closed and was only 2-3 days this saw hundreds of climbers head towards the summit on the first of those 3.
This would also be the year that my good friend Nirmal Purja who would be climbing all of the 14×8000 meter mountains in a record time of 6 months & 6 days was on Everest, the previous record was nearly 8 years.
Nims passed me on the way from C1 to C2 just after landing at base camp by Heli.
He had just previously summited Kanchenjunga (8,586) he's passed me on our ascent up the hill, the man is a superhuman in the mountains and goes way too fast for me and I suppose way too fast for most.
None the less it was great to share the mountain with this legend and friend.
Nims Dai & Jay Morton at Everest Base camp
This season I would be guiding on Everest. The group was 7 climbers of mixed experience, some extremely robust and strong and some others that needed more guidance.
We all managed the acclimatisation phase, myself and a few others reached up to high camp 3 or C3 at (7162m) as part of our acclimatisation rotation window.
We returned to Basecamp and rested to allow our bodies to adapt to the extreme altitudes and began to prep for our summit push.
The weather was tricky this year, we were given an early window in which we could potentially summit, it would be a huge rush and I wasn't a 100% sure that we would have all the right equipment higher up the mountain, oxygen bottles and other supplies, but still enough for a small group of the stronger climbers to attempt.
The decision was made and I left basecamp with the group quite late on in the day. This meant that we wouldn't get a chance to rest at Camp 2 (6400m) for long. We were climbing Everest via the south side and our climb from BC was thought the notorious Khumbu Icefall, ice double the size of your house that would slowly move down the glacier.
This is one of the most dangerous parts of the climbs as the crevasses we cross are incredibly deep. Fixed ladders that would find from a hardware stored are roped to these that enable us to climb and pass over.
On the way up one of my climbers became ill and started to cough up blood. There was enough experience in the group for them to carry on to up C2.
I would stay with the ill climber and we decided to get him to C1 where there would be spare tents that we could get into as it was getting dark and extremely cold.
We managed to get into the tent at around 8 pm, I got him into his sleeping bag and we huddled to keep warm, the temperature was around -15 to -20 on Everest at night.
I radioed for one of our sherpas to come down from C2 with food and water boiling kit. It must have been around midnight when the Sherpa arrived, I had started to shiver uncontrollably although still feeling quite strong, I just needed to move to generate heat to avoid hypothermia. I didn't have a sleeping bag in the tent so I made the decision to move up to C2 by my self straight after.
It was a long hellish climb up from C1 to C2, I didn't have much energy left as I was out of food and water. I had also burnt loads of calories and energy due to the cold.
I took it one step at a time and remember feeling so tired that I was struggling to generate enough body heat. The last few steps up to C2 seemed to take forever but I made pushed on. I ate some cold food, mainly luncheon meat, coleslaw and bread and fell into my sleeping bag.
I struggled to rest when I am fatigued, so sleep didn't seem to come to me that night.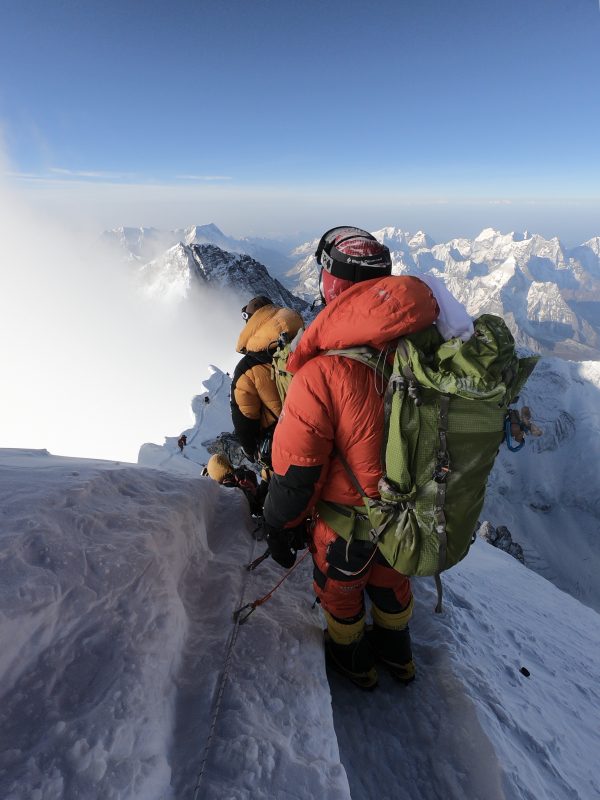 The next day we had to move up to high camp C3. We left C2 around 2 pm and began our ascent up the steep and notorious Lhotse Face in an aim to get to C3 for around 8 pm.
I could tell everyone looked tired more so than ever and I honestly felt it too. I personally don't think that my body had time to recover from the day before and all of sudden I was hit with a really bad stomach so bad I had to go consecutively 4 times where I stood.
We made the hard decision to turn around and head all the way back down to basecamp. Thank god we did as no one that tried to summit the next day made it due to the rope fixing team not being set up higher on the mountain.
After a few good days of rest down in base camp breathing the thicker oxygen and easting and sleeping well, we pushed for our summit attempt again. Most of the team felt fit and well-rested and were eager to go.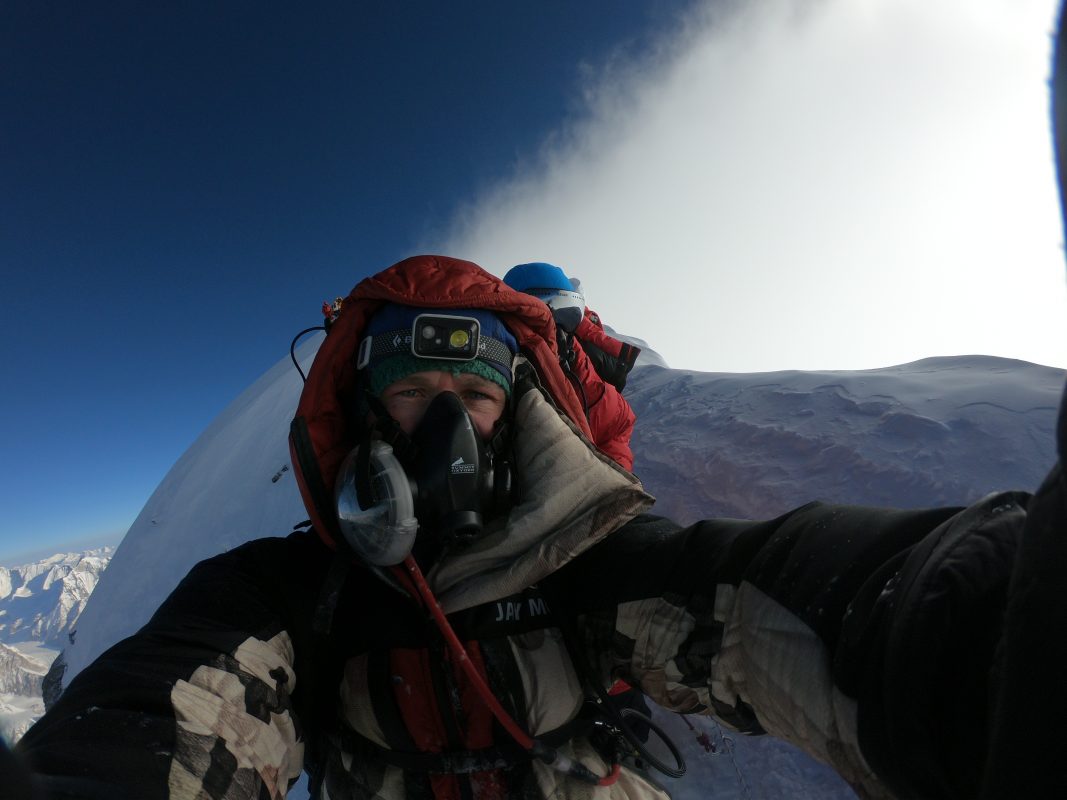 There was a lot of traffic on the way up as the weather meant there was only a small weather window of 2-3 days.
We moved back up through the icefall passing each camp whilst stopping for rest and resupply. After arriving at Camp 4 the last and highest camp on the southside at 8000m. From here the summit was in sight and only 850 vertical meters above us. C4 is a pitstop for resting and refuelling however it is incredibly difficult to eat or sleep at this attitude as the human body begins to breakdown.
We left C4 at around 20:00 that night, fortunately, there were no queues this time on the Hillary Step (8,790m) just before the summit as most had attempted there climb the previous day.
I and three others from the team summited at around 6 am on 25th May 2019 and I was proud to once again stand on the roof of the world.
This was 24 hours after Nims and taken the iconic picture the traffic jams on the Hilary step, Nims had already summited Lhotse (8516m) several hours after summiting Everest what a machine. We took a few photos and had about 10 minutes on the summit before we then made the long climb all the way back down to base camp.
Proud to have a second summit on Everest in the bag and also to guide now friends to the top of the world.